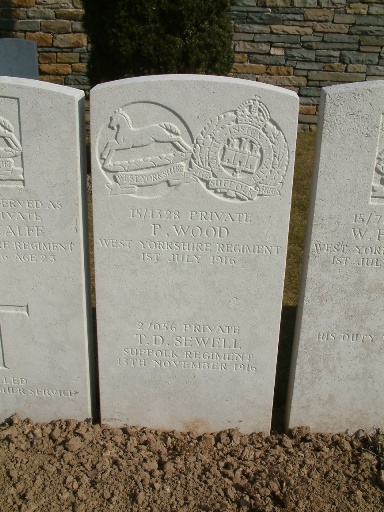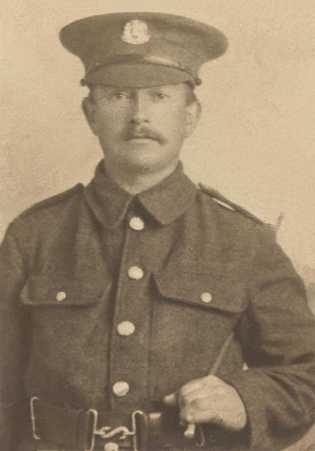 Thomas Doe Sewell was baptised in the Priory Church, Little Dunmow on 11th November 1883, the fourth of eleven children of John and Eliza Marie Sewell (née Doe).
In 1911 the family were living at Church View, Little Dunmow:
John Sewell - age 57 - Farm Labourer - born Lt. Dunmow.
Eliza Maria Sewell - age 52 - born Lt. Dunmow.
Thomas Doe Sewell - age 27 - Farm Labourer - born Lt. Dunmow.
Grace Sewell - age 14 - born Lt. Dunmow.
Elsie Sewell - age 12 - at school - born Lt. Dunmow.
Rosa Sewell - age 11 - at school - born Lt. Dunmow.
Walter Sewell - age 8 - at school - born Lt. Dunmow.
Thomas is recorded at Little Dunmow as having served as a Private soldier with the 10th Battalion the Suffolk Regiment. The Commonwealth War Graves Commission records that at the time of his death he was serving with the 2nd Battalion.
The 10th (Reserve) Battalion of the Suffolk Regiment was formed in Felixstowe in October 1914 as a Service battalion, part of Kitchener's K4 Army, by breaking off two recruit companies from the 3rd (Reserve) Battalion. It was attached to 94th Brigade, and originally part of the 31st Division. Early in 1915 the battalion was moved to Bury St Edmunds. On 10th April 1915 it became a Reserve Battalion and was moved to Colchester, then moved again to Dovercourt in March 1916. On 1st September 1916 the battalion was converted into 26th Training Reserve Battalion in 6th Reserve Brigade. It is likely that Thomas undertook his training with the 10th Battalion during this period and at some point was drafted to the 2nd Battalion for active service.
Thomas died on 13th November 1916. He is buried at the Queens Cemetery, Puisieux, Calais, France. (photograph of grave courtesy www.britishwargraves.co.uk)
Queens is a battlefield cemetery, started in 1917 after the great battle of the Somme had finished and the German Army had withdrawn to the Hindenburg line. The army dug a mass grave and laid all the bodies that could be found into the pit. The dates on this shared headstone indicate how long the bodies had lain in the open. P. Wood was killed on the first day of the Somme in July 1916, Thomas Sewell was killed on the first day of the battle of the Ancre in November 1916.
The battle of the Ancre was the last part of the battle of the Somme.