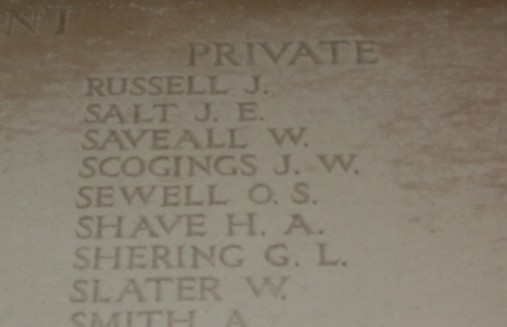 Oscar Samuel Sewell was the fifth child of Elijah and Sarah Sewell and was born in the third quarter of 1896.
He was baptised in the Priory Church, Little Dunmow on the 11th November 1896.
In 1911 the family is recorded living at Throws Cottages, Little Dunmow:
Charles Sewell - widower - age 84 - Farm Labourer - born Lt. Dunmow.
Elijah Sewell - age 49 - Wheelwright and Carpenter - born Lt. Dunmow.
Sarah Ann Sewell - age 43 - born Stebbing.
Gertrude Caroline Sewell - age 21 - Domestic Servant - born Stebbing. (Served with Queen Alexander Medical Nursing Service)
Charles Sewell - age 19 - Carpenter - born Lt. Dunmow.
Harold Bavin Sewell - age 17 - Farm Labourer - born Lt. Dunmow. (Served with 1st Yorkshire and Lancashire Regiment)
Oscar Samuel Sewell - age 14 - Apprentice to Carpenter - born Lt. Dunmow.
Elijah Waskett Sewell - age 7 - at School - born Lt. Dunmow.
Unfortunately there are no military records of Oscar's service bar a few details that are held in the Essex Regimental museum which state that he was a Territorial Soldier before joining the regiment, it is therefore probable that he volunteered early in the war. His medal card indicates that he was initially a member of the Essex Regiment Territorials, service number 1868, and later a regular with the Essex Regiment, service number 29357. The Medal Card also indicates that he first entered active service on 9th August 1915 seeing action in the Balkans.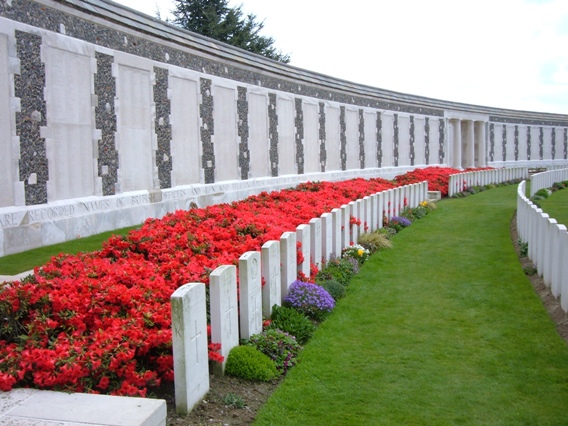 He was killed in action on 22nd October 1917, aged 21, when the 10th Battalion, Essex Regiment and the 8th Battalion, Norfolk Regiment attacked the small town of Poelcappelle. Having no known grave he is commemorated on the Tyne Cot Memorial, Zonnebeke, Belgium.
(Photograph of memorial inscription, above, courtesy Becky Stone)
(photograph of memorial courtesy www.britishwargraves.co.uk)
The curator at the Essex Regimental museum recalls being contacted by a lady called Millicent Bateman who enquired about Oscar some years ago. Millicent was in fact Oscar's niece, her mother being Emily Maud the eldest child of Elijah and Sarah. She said "he was much mourned and remembered with great affection by his siblings. Certainly he looked handsome and definitely a gentle sensitive type"
Oscar Sewell is recorded at Little Dunmow as being a Private Soldier with the 5th Battalion The Essex Regiment (Territorial), but at the time of his death the Commonwealth War Graves Commission records that he was serving with the 10th Battalion.
Elijah and Sarah Ann Sewell lived at Throws Cottage, Little Dunmow.