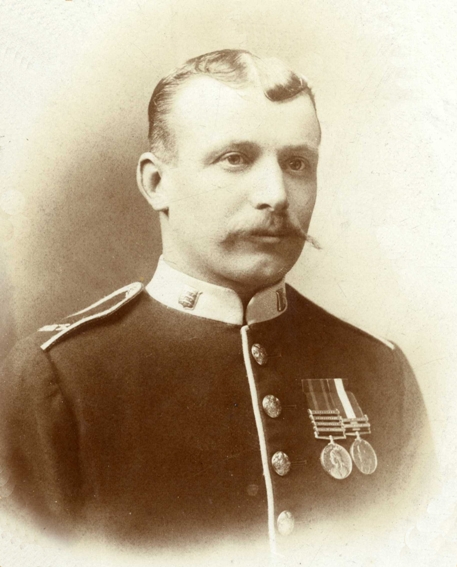 Jospeh Radley was born in Felsted in 1877.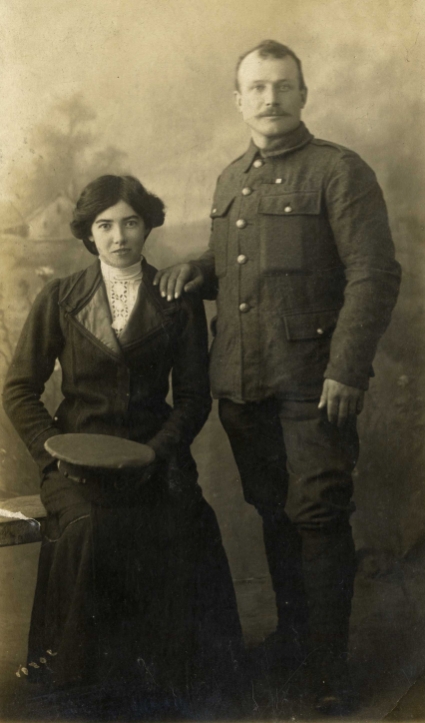 He became a career soldier and served with the 2nd Battalion the Essex Regiment. The photograph to the left shows Joseph sometime after 1902 wearing his home dress uniform with both the Queen's South Africa Medal and the King's South Africa Medal.
In 1911 he is listed on the census for Kildare at Curragh Camp, and as being married. Joseph also appears on the 1911 Irish census as being resident in a single room dwelling on the Square, at Skerries, a fishing village north of Dublin. He and his wife, Margaret are listed as having been married for one year. They are both shown as being Roman Catholic. Joseph is listed as being 32 years old, a Private solider, Infantry, and born in England. Margaret is listed as being 27, a hosiery embroiderer, born in County Dublin.
The picture shows Joseph with his wife Maggie. (pictures courtesy Clare Back)
In 1911 he achieved his marksman's qualification with a score of 137.
His Battalion went to France on 22nd August 1914 with Joseph holding the rank of Private. During his service at the front he was promoted to the rank of Corporal. He died of wounds aged 36 on 13th May 1915.
He is buried at the Vlamertinghe Military Cemetery, Belgium, which is village just west of Ypres, where the allies had a hospital.
Photograph of grave courtesy www.britishwargraves.co.uk

Both Joseph and Sidney were the sons of Jonah and Jane Radley of Willows Green, Felsted.
The Radley family sent 6 sons to the war. In 1891 the census list the family as living at Mole Hill Green, Felsted:
Jonah Radley, age 41, born Pattiswick
Jane Radley, age 39, born Gt Leighs
William Radley, age 19, born Felsted. Registered as Thomas William Radley
Albert Radley, age 17, born Felsted. Registered as Henry Albert Radley
Jospeh Radley, age 13, born Felsted.
Nellie Radley, age 10, born Felsted.
James Radley, age 9, born Felsted.
Sidney Radley, age 6, born Felsted
Lottie Radley, age 3, born Felsted
Fred Radley, age 1, born Felsted
Another Son Peter was born in 1891 after the census was taken.
William, Joseph, James, Sidney, Fred and Peter all served during the war.
A Bad Day for the Essex Regiment and Felsted
Battle of Arras - 14 April 1917
At 05.30 on April 14, the 1st Battalion, Essex Regiment and the Newfoundland Regiment began its advance behind a creeping barrage. Although some men were lost to enemy machine-gun fire, the Regiment soon reached its first objective - Shrapnel Trench. Troops found this deserted and proceeded to Infantry Hill. By 07.30, with both of their objectives taken, the two regiments began to secure their positions.
At about 08.00, the Germans began a strong counterattack. It soon became apparent that the Germans had used an elastic defence. With the Essex and Newfoundland Regiments in a salient, the Germans were able to attack them on three sides. Soon the Germans were able to move in behind the two Regiments and "pinch" them off from the village of Monchy-le-Preux, the location of their headquarters behind the British Lines. After fierce fighting, most of the Essex and Newfoundland men were either captured or killed.
Such were the casualties in killed and prisoners that both units became ineffective and were briefly amalgamated for convenience as the "Newfoundessex" , continuing until drafts were received to rebuild both Battalions. For the 1st Essex it was the third time in its history that it had been virtually destroyed.
Felsted Casualties on 14th April 1917
Company Sergeant Major Sidney Radley
Lance Corporal Percy Baker
Private Joseph Chalk