Joseph Chalk was born in Felstead in the last quarter of 1882. He was the son of George and Sarah Chalk of Mole Hill Green.
In 1901 the chalk family are recorded at Mole Hill Green:
George Chalk - 58 - Farm Foreman (born Gt Dunmow) (George died 1919)
Sarah Chalk - 54 (born Felstead)
William - 15 - Stockman (born Felstead)
George - 12 (born Felstead) (By the 1911 census, George was a Lance Corporal in "H" Company, 1st Bn. Essex Regiment and was serving in Quetta Baluchistan, India)
Minnie - 12 (born Felstead)
Joseph had moved away and is recorded on the Census as 'John' Chalk - 18 (born Felstead) working as a Farrier living in Islington.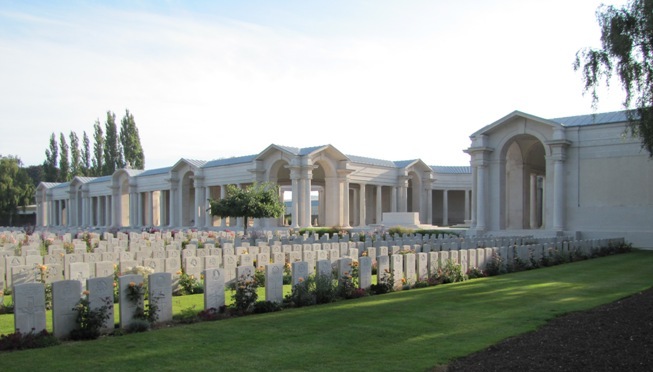 Joseph joined the Essex Regiment between 21st March 1904 and 9th April 1904, but had left the army by 1911.
Joseph Chalk married Clara Elizabeth Tarling in the Epping registration district in the last quarter of 1908.
By the 1911 census Joseph's family is recorded as living at Fairview Farm Cottages, Chigwell Row, Essex
Joseph Chalk - age 27 - Horseman on Farm - born Dunmow.
Clara E Chalk - age 21 - born Great Parndon.
Herbert B Chalk - age 1 - born Bishops Stortford.
Edward G Chalk - age 4 months - born Chigwell Row.
Joseph was recalled from the Reservists in 1914 and served as Private soldier 7857 with 'A' Company, the 1st Battalion, the Essex Regiment.
He died aged 34 on 14th April 1917. He is remembered on the Arras Memorial. (photograph of memorial courtesy www.britishwargraves.co.uk)
His mother Sarah was living in Braintree Road, Felstead after her husband's death.
A Bad Day for the Essex Regiment and Felsted
Battle of Arras - 14 April 1917
At 05.30 on April 14, the 1st Battalion, Essex Regiment and the Newfoundland Regiment began its advance behind a creeping barrage. Although some men were lost to enemy machine-gun fire, the Regiment soon reached its first objective - Shrapnel Trench. Troops found this deserted and proceeded to Infantry Hill. By 07.30, with both of their objectives taken, the two regiments began to secure their positions.
At about 08.00, the Germans began a strong counterattack. It soon became apparent that the Germans had used an elastic defence. With the Essex and Newfoundland Regiments in a salient, the Germans were able to attack them on three sides. Soon the Germans were able to move in behind the two Regiments and "pinch" them off from the village of Monchy-le-Preux, the location of their headquarters behind the British Lines. After fierce fighting, most of the Essex and Newfoundland men were either captured or killed.
Such were the casualties in killed and prisoners that both units became ineffective and were briefly amalgamated for convenience as the "Newfoundessex" , continuing until drafts were received to rebuild both Battalions. For the 1st Essex it was the third time in its history that it had been virtually destroyed.
Felsted Casualties on 14th April 1917
Company Sergeant Major Sidney Radley
Lance Corporal Percy Baker
Private Joseph Chalk