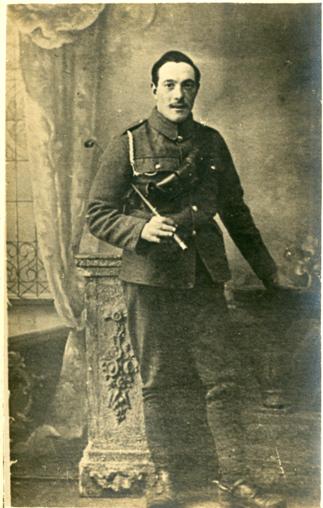 John Hawkes was born in the Summer of 1893 in Little Waltham.
In 1901 the Hawkes family were living at Appletrees, Hartford End, which is in the parish of Ford End. Members of the Hawkes family appear on the Felsted absent voters list for 1918, hence the entry in our record.:
Walter Hawkes, age 38, occupation: Farm Labourer, born: Stebbing
Matilda Hawkes, age 39, born: Gt. Waltham.
Minnie Hawkes, age 12, born: Gt. Waltham.
Florence Hawkes, age 10, born: Gt. Waltham.
William Hawkes, age 8, born: Lt. Waltham.
John Hawkes, age 8, born: Lt. Waltham.
David Hawkes, age 4, born: Gt. Waltham.
Edward Hawkes, age 2, born: Gt. Waltham.
Ada May Hawkes, age 1, born: Gt. Waltham.
Walter Hawkes died in 1904 aged 41. Matilda married again in 1910 to James Newman.
John was known to family and friends as 'Jack', a fact picked up from the picture which was provided by the Essex Regiment Museum. His brothers William (Billy) David and Edward (Ted) also served during the war and are included in the also served pages.
The Ford End Church Roll of Duty and War Memorial records John Hawkes as being a Private Soldier in the 5th Battalion, the Essex Regiment, who was killed on 30th November 1917.
The Commonwealth War Graves Commission record states he was at the time of his death Rifleman A/200883 with the 10th Battalion the King's Royal Rifle Corps, aged 26 and was Killed In Action on 30th November 1917. Having no known grave he is commemorated at the Cambrai Memorial, at Louverval. The CWGC website records John Hawkes as the Son of Mrs Matilda Newman of Cambrai, Ford End.
He is not commemorated at Felsted.