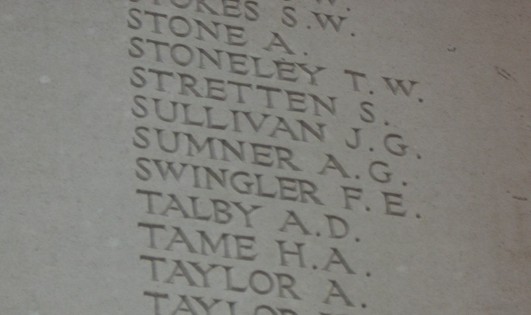 Albert was born in the last quarter of 1877 in the Saffron Walden registration district.
In 1881 the census shows the Sumner family living at Quendon, near Newport in the North West of Essex:
George Sumner, age 32, occupation: Shopman, Grocer & Draper, born: Rickling
Susan Sumner, age 31, born Felsted
Albert Sumner, age 3, born Quendon, Essex
Percy Sumner, age 1, born Quendon, Essex
George Sumner died during 1886 before the next census.
The 1891 census shows Susan had returned to Felsted with her children, and was living in the village centre:
Susan Sumner, age 42, widow, occupation: Housekeeper
Albert George Sumner, age 13,occupation: Grocerís Apprentice,
Percy Sumner, age 11, occupation: Scholar
Jane Snow, age 38, Lodger, occupation: Confectionerís Assistant, born: Great Waltham.
Living next door were Susanís father and two young daughters:
Benjamin Staines, age 72, Widower, occupation: Bootmaker, born: Felsted
Alice Maud Sumner, age 8, grand-daughter, occupation: Scholar, born: Rickling
Mary Susan Sumner, age 7, grand-daughter, occupation: Scholar, born: Rickling
By 1901, the household in Felsted was much reduced:
Benjamin Staines, age 82, occupation: Bootmaker, born: Felsted
Susan Sumner, age 52, occupation: Housekeeper
Mary Sumner, age 17, occupation: Help.
Albert was lodging at 31 The High Street, Clerkenwell, with Charles and Annie Becking. Charles Becking was a Grocerís Manager. Albert is listed as one of four lodgerís all working as Grocerís Assistants.
He married Matilda Kate Thorpe at St Paulís Church Hammersmith on 23rd April 1909. They lived at 22 Loftus Road, Shepherdís Bush, Hammersmith.
In 1911 Albert was living at 22 Loftus Road, Shepherds Bush, West London, in the Borough of Hammersmith:
Albert George Sumner, age 34, married for 1 year, Occupation Wholesale Grocer
Matilda Kate Sumner, age 40, married for 1 year, born: Feltham, Middlesex.
Albert's military record tells us that he was 5í 5Ē tall and 140 lbs and was 38 yrs and 9 months old when he enlisted with the Rifle Brigade on 30th October 1916.
He served as Rifleman S/27613 with the 8th Battalion, The Rifle Brigade.
His records shows:
Enlisted 30/10/1916
Supplied Dentures: 14/05/1916
Embarked Southampton 29/05/1917
Disembarked Le Harve 30/05/1917
Proceeded to 8th Battalion: 16/06/1917
Joined Battalion: 05/07/1917
Killed in Action: 16/10/1917
The 8th Battalion of the Rifle Brigade, were part of the 41st Brigade, 14th (Light) Division, XV Corps. The Division joined the first battle of Passchendaele on 12th October. The Battle raged between 31st July and 6th November 1917.
He was aged 40 when he died on 16th October 1917.
Having no known grave, he is remembered on the Tyne Cot Memorial.
(Photograph of memorial inscription courtesy Becky Stone)
His widow later moved to 15 St. Dunstanís Road, Feltham, Middlesex, and had died by the time the Commonwealth War Graves Commission created their records.
His mother was Susan Sumner of Chelmsford Road, Felsted.
His brother was Percy Sumner of 21 Leytonstone Road, Stratford Essex.
His sister was Mary Haslen, of Stebbing.