The Smith Brothers
The Essex County Chronicle of Friday May 11, 1917 records:
SAD LOSSES. Sergt. Major Percy Smith, eldest son of Mr. and Mrs. George Smith, Bannister Green, Felsted, was accidentally shot while out shooting near a Yorkshire camp. Deceased was wounded in 1915 in France, and in July, 1916, was invalided home with rheumatism and fever. He was buried at Ripon. Mr. and Mrs. Smith have sustained other severe losses during the war. Their second son Pt. W. Smith, was killed at Ypres in Nov. 1914, and Ernest, their youngest son, was killed at Givenchy in Sept. 1916, while Pt. A. Smith, their only surviving son, is in a Welsh Nursing Home suffering from rheumatism.

Percy John Smith was born in Felstead in the second quarter of 1882 to George and Jane Smith of the Mount, Bannister Green, Felstead.
He does not appear on the 1901 census suggesting he was overseas, possibly on military service.
In 1911 he appears as resident at Bulford Hut Barracks, Salisbury, Wiltshire. His age is recorded as 29, and that he was married and his occupation is Assistant Wesleyan Chaplain. Unfortunately it has not yet been possible to identify his marriage in the registers.
During the war Percy served in France and after being wounded in 1915 and being invalided home in 1916 he served as 85441 Battery Serjeant Major at the Northern Command Depot (Ripon) of the Royal Field Artillery.
He died aged 34 on 28th April 1917, as the result of a shooting accident. He is buried in Ripon Cemetery.
(photograph of grave courtesy www.britishwargraves.co.uk)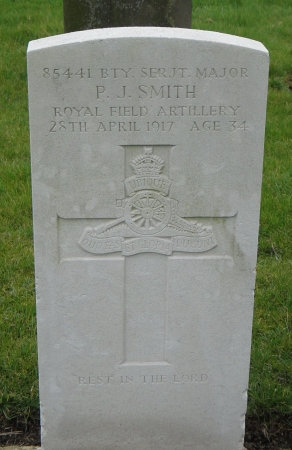 Walter Smith was the second son of George and Jane Smith. He was born in 1887, and the 1891 census for the family shows them living next door to the Mill House at Cock Green.:
George Smith, 30, Journeyman Miller, born Felstead.
Jane Smith, 31, born Gt. Leighs.
Annie Smith, 11, born Gt. Leighs.
Percy J. Smith, 8, born Felstead.
Edith K. Smith, 6, born Felstead.
Walter Smith, 4, born Felsted.
Arthur Smith, 6 months, born Felsted. (Arthur was a regular soldier with the Essex Regiment and appears in our also served pages)
In 1901 Walter is living in Stebbing with Edward Bentall, and working as a Grocer's Apprentice.
He enlisted in Braintree and served as Private Soldier 7664, with the 1st Battalion, the Northamptonshire Regiment.
Walter married Mabel E. Cotton in the January of 1914 in the Romford registration district.
Walter was killed in action on 11th November 1914 and having no known grave is commemorated on the Menin Gate Memorial at Ypres.
After the war Mabel E. Smith lived at 126 Glenny Road, Barking, Essex.


Ernest Smith was born in Felstead in the second quarter of 1892, ten years after his brother Percy.
The 1901 Census records the family at Bannister Green:
George Smith - 40 - Journeyman miller
Jane Smith - 41 - Dressmaker
Ernest Smith - 8
Florence M. Smith - 6
Dorothy - 3
Beatrice - 1
In 1911 the census shows that the family are still at Bannister Green:
George Smith - age 40 - Miller - born Felstead.
Jane Smith - age 41 - born Great Leighs.
Ernest Smith - age 18 - Cowman on Farm - born Felstead
Dorothy Smith - age 13 born Felstead.
Beatrice Ellen Smith- age 11 - at school - born Felstead.
Laura Minnie Smith - age 9 - at school - born Felstead.
Ernest served as a Gunner with 'Z' (Guards) Trench Mortar Battery, of the Royal Garrison Artillery.
He died age 24 on 10th September 1916. He is buried at the Carnoy Military Cemetery.
Photographs courtesy www.britishwargraves.co.uk