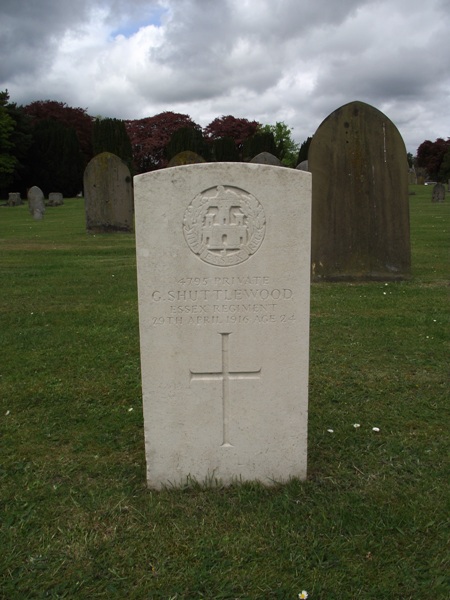 George Shuttlewood served as a Private soldier with the 2nd/7th Battalion the Essex Regiment.
He died age 24 on 29th April 1916. He is buried at Thetford Cemetery.
George Shuttlewood, was a member of the 2nd/7th Essex Regiment, this was a territorial battalion, which provided training and recruits for the active service battalions. In spring 1916 it was stationed at Thetford in Norfolk. The records at the Essex Regiment Museum show that George was never given an entitlement to any war medals so we know he did not make it to the front.
His death certificate shows that George died of Cerebro Spinal Meningitis, and that within 12 hours a bacteriological post mortem had been carried out to test the Cerebro Spinal fluid. The post mortem being certified by John E. B. Wells MRCS.
The certificate also reports that the death was reported by Captain F.H. Hall, who also organised the burial at the 2/7 Essex Camp, Thetford.
The certificate also gives us an interesting detail about George as it records his occupation as "Private 2/7 Essex Regiment (Steam wagon driver)". As the Essex regiment did not have steam wagons this would have been George's civilian occupation.