Sydney Fuller was born in Felsted in 1893. He was the son of Mr Joseph and Mrs Sara Fuller.
In 1901 the family lived at Abbotts on the corner of Mill Road and Station Road:
Joseph Fuller - 51 - Bootmaker
Sara Fuller - 44
Emily - 18
Ethel - 11
William - 9
Sydney - 7
Hilda - 5
Olive - 3
Charles - 1
By 1911 Sydney had left Felsted and was living as a boarder at 16 Dacre Street, Lewisham, and working as a Grocer's Assistant.
Sydney Thomas Fuller served as a Lance Serjeant with the 20th (County of London) Battalion, the London Regiment (Woolwich and Blackheath).
The period of 21st March – 23rd March 1918 was called the Battle of St Quentin, part of what became the 1918 Battle of the Somme. On 21st March the German Army launched Operation Michael, which was the beginning of their Spring Offensive. It was launched from the heavily fortified Hindenburg Line, in the region of Saint-Quentin, France. The goal was to break through the Allied Lines and advance North-West to seize the Channel ports which supplied the British Expeditionary Forces. Just two days into the operation, General Ludendorff changed his plan, and pushed the offensive due west along the whole of the British front, north of the Somme. The early successes led him to believe he could now separate the allied armies, and push the British back to the sea. The offensive stalled at Villers-Bretonneux a little east of Amiens, due to heavy casualties, and the over-extended supply lines of the advancing troops.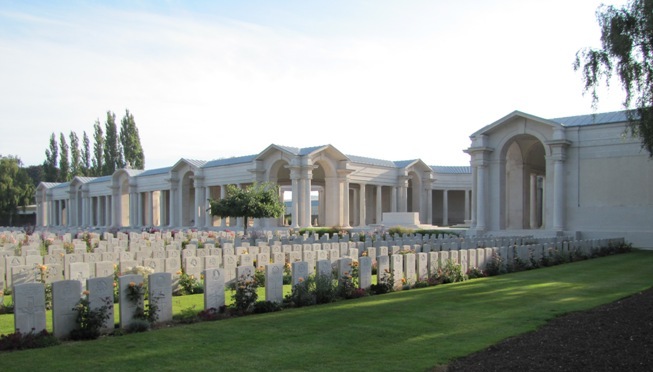 The 20th Battalion, of the London Regiment, were part of the 141st Brigade, 47th (2nd London) Division.
When the Germans launched their offensive the 47th Division was in the line in the Flesquieres salient, in V Corps, on the extreme right of Third Army. Over the next six days the division conducted a fighting withdrawal until, on 26th March, it crossed the Ancre where the enemy advance was brought to a halt. Ironically, the division's line of retreat had taken it through High Wood which it had captured at great cost eighteen months earlier.
Sydney died, aged 24, on 23rd March 1918. He is remembered on the Arras Memorial. (photograph of memorial courtesy www.britishwargraves.co.uk)
After the war Joseph and Sara lived in Chelmsford Road, Felsted.