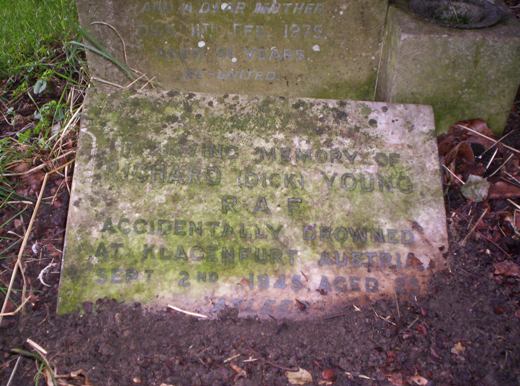 Richard 'Dick' Charles Hubert Young was born in the second quarter of 1920 in the Dunmow registration district
'Dick' served as a Corporal with the Royal Air Force Reserve.
He died on 2nd September 1945.
He is buried at the Klagenfurt war cemetery.
At the end of the second world war in Europe, in May 1945, the airfield at Klangenfurt, Austria, was taken over by the Royal Air Force. The airfield had to be converted from being a base for the Luftwaffe who had abandoned various aircraft there. A number of RAF squadrons were also based there until late September 1945. We do not know in what capacity 'Dick' was at the airfield.
Klagenfurt airfield is to the North East of the town, and sits on the edge of a beautiful alpine lake to the south west.
A memorial stone placed on his parents grave in the graveyard of Holy Cross Church, Felsted tells us that 'Dick' accidentally drowned.
Flight magazine of May 2nd 1946 published a Roll of Honour, Casualty Communique No. 575 which lists Richard in the final section 'Died on Active Service'.
He was the son of Hubert and Emily Young (nee Eve).