Richard Forman Tomlinson was born in Loughborough in 1889,
In 1901 the family are recorded as living at 22 Salmon Street, Loughborough:
Joseph Tomlinson - age 52 - Horse Keeper - born Melbourne, Derbyshire.
Mary Tomlinson - age 52 - born Breedon on the Hill, Leicestershire.
Lizzie Tomlinson - age 21 - Overlooker, Hosiery Factory - born Thorpe Acre, Leics.
Etty Tomlinson - age 16 - Warper, Elastic works - born Loughborough, Leics.
Mirriam Tomlinson - age 14 - Errand Girl - born Loughborough, Leics.
Richard F Tomlinson - age 12 - at school - born Loughborough, Leics.
Percy R. Tomlinson - age 8 - born Loughborough, Leics.
Richard married Florence Emily Mary Thomas at Little Dunmow Church on 21st April 1913. Both were domestic servants at the Vicarage, Little Dunmow.
Richardís father is recorded on the marriage certificate as Joseph Tomlinson, Coachman, and Florenceís father is recorded as John Thomas, Gardener. The Service was conducted by Rev. Edgar Illiff Robson.
Richard was also the organist at Little Dunmow Church from October 1913 to October 1915.
Richard served as Gunner 111120 with 'G' battery Royal Horse Artillery.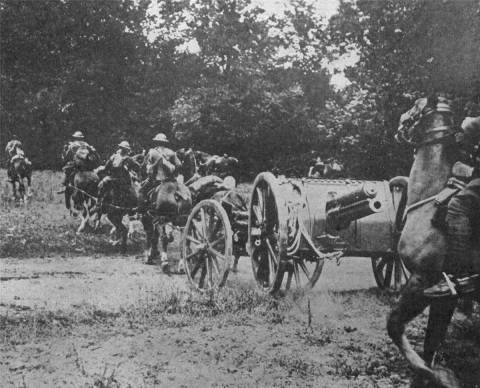 Royal Horse Artillery moving guns during WW1
Richard died of wounds age 27 on the 14th November 1916.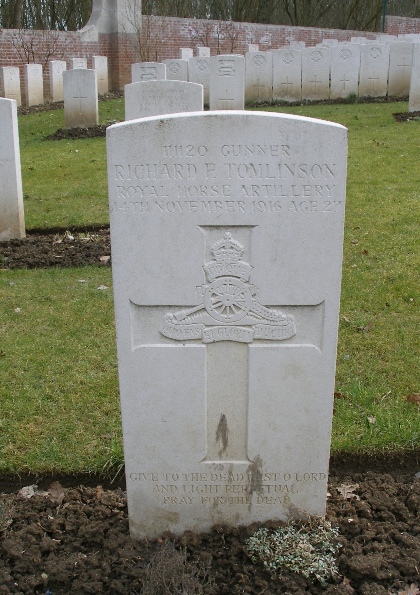 He is buried at Aveluy Wood Cemetery, Mesnil-Martinsart.
(Photograph of grave courtesy www.britishwargraves.co.uk)
As well as being named on the War Memorials at the Church a small framed metal plaque is kept on the Church organ. (right)
Richard is also commemorated at All Saints Parish Church, Loughborough.
Florence Tomlinson is also named on the painted First World War memorial at Little Dunmow. The memorial records all those from Little Dunmow who served during the war and returned. Florence was a member of the Women's Auxiliary Army Corps (WAAC).
Florence moved to Abingdon after the war. In the summer of 1925 Florence married Richard's younger brother Percy in the Loughborough registration district.