Lancelot Henry George Arnold was born in Coleshill, Buckinghamshire in 1897 to Lancelot Henry and Martha Emily Arnold, who moved to Leez Priory, and later to Lilla Cottage, Felsted.
By 1911 the family were living in Felsted and Lancelot was 14 years old. The census records the family as living Leez Priory Cottage, Hartford End:
Lancelot Henry Arnold - aged 43 - Gardener Domestic - born Weybridge Surrey
Martha Emily Arnold - aged 42 - born Old Basing, Hants
Lancelot H G Arnold - aged 14 - Garden Boy Domestic - born Coleshill, Bucks
Albert Walter Arnold - aged 11 - School - born Coleshill, Bucks
Emily Mary Arnold - aged 8 - born Coleshill, Bucks
Thomas Arthur Arnold - aged 6 - born Frome St Quintin, Dorset
Lancelot enlisted at Braintree, and served as a Private soldier 6164 with the Essex Regiment, transferring to become Private soldier 4498 with the Border Regiment and then Private soldier 241974 with the 5th Battalion of the Border Regiment.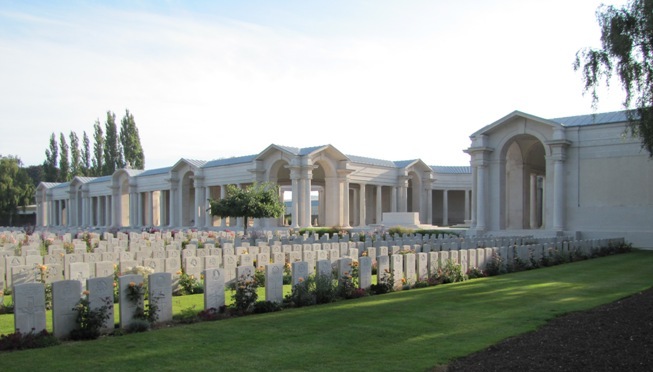 The 5th Border Regiment were part of the 151st Brigade, within the 50th Division.
The Battle of Arras took place between 9th April and 16th May 1917.
During the second phase of the Battle, what became the Second Battle of the Scarpe took place on 23rd and 24th April 1917.
On 23rd April, the British launched an assault east from Wancourt towards Vis-en-Artois. Elements of the 30th and the 50th Divisions made initial gains, and captured the village of Guémappe, but could advance no further east and suffered heavy losses.
Further north, German forces counterattacked trying to recapture Monchy-le-Preux, but troops from the Royal Newfoundland Regiment were able to hold the village until reinforcements from the 29th Division arrived. British commanders decided not to push forward because of stiff German resistance, and the attack was called off the following day on 24 April.
Lancelot was killed in action aged 20 on 23rd April 1917. He is remembered at the Arras Memorial. (photograph of memorial courtesy www.britishwargraves.co.uk)
The Essex Weekly News of 15th March 1918 includes the following item in its Roll of Honour:
Pte. L.H.G. Arnold, Border Regt., eldest son of Mr and Mrs Arnold, Leez Priory, Hartford End, Chelmsford, who was notified as wounded on April 23, 1917, and afterwards missing, is now reported to have been killed on that date. Pte Arnold had been at the front from Sept. 9, 1916. He was 20 years of age. Mr Arnold's second son is in the R.F.C. (Royal Flying Corps)