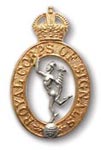 John William Stone served as a Lance Corporal with the Royal Corp of Signals attached to the 7th Indian Division, Indian Signals Corps.
He was born in 1919 in Stepney to Thomas and Mary Ellen Stone.
Thomas Stone and Mary Ellen Jackman were married in Stepney in the final quarter of 1913. They had three children:
Mary E Stone, born in the September quarter of 1918
John William Stone, born in the Dec quarter of 1919.
James Stone, born in Jun quarter of 1921.
By the time of the Second World War the family were living in Felsted. Thomas Stone died in 1938, and after the war Mary Stone is listed as living at 3 Station Road.
John died age 24 on 6th February 1944, and is buried at the Taukkyan War Cemetery, near Rangoon.