Sellers Stanford Hardee was born in Florida on 22nd November 1921. He was the second son of Walter Robert Hardee and Bessie S. Hardee.
The US census of 1930 shows that the family had moved around quite a lot during the hard years of the 1920s but by 1930 had returned to Walter's native Georgia. The family was living in the Militia District of Appling County, which is part of the city of Baxley.
| | | | |
| --- | --- | --- | --- |
| Name | Age | Place of Birth | Occupation |
| Walter Robert Hardee | 35 | Georgia | Public school teacher and WW1 veteran |
| Bessie S. Hardee | 34 | Georgia | |
| Walter Robert Hardee jnr | 10 | Florida | |
| Sellers S. Hardee | 8 | Florida | |
| Earl A. Hardee | 6 | Tennessee | |
| Harry E. Hardee | 3 | Georgia | |
| Ted L. Hardee | 9 months | Georgia | |
When war broke out in December 1941 Sellers was working as a Sales Clerk, and this young man was now 5 feet 9 inches tall and was a slim 161 lbs. His older brother had already volunteered for the Army Air Corps, and Sellers followed his example, joining at Napier Field, Dothan, Alabama, as trainee pilot with the rank of Staff Sergeant.
By February 1943 he was at Pinellas Army Air Base, Florida, flying the P-40F Curtiss Warhawk. By April of the same year he had moved to Harding Field Louisiana, and was flying the P-51A Mustang.
It was on 28th October 1944 that he joined the 357th Fighter Squadron, part of the 355th Fighter Group, based at Steeple Morden Airfield in Cambridgeshire, just West of Royston. The 355th had won recognition for attacking the Luftwaffe on the ground, and had become known as the "Steeple Morden Strafers". Now 1st Lieutenant Hardee, he was to add the score of the fighter group being credited with two aircraft destroyed and another three damaged. These strafing victories were won flying the P-51D Mustang, serial number 44-14402, recognition code OS-H, named 'Barbara' by the previous pilot Captain Fred R. Haviland Jnr.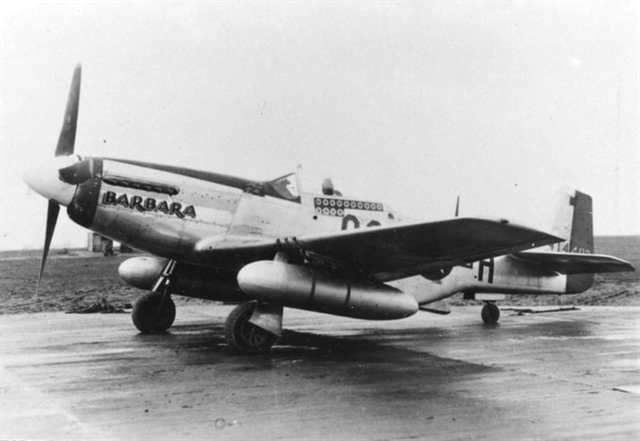 photograph courtesy Bill Marshall, Author and 355th Fighter Group Historian
| | | |
| --- | --- | --- |
| Date | Aircraft Type | Location |
| 3rd February 1945 | Junkers 88 | Gardelegen |
| 9th February 1945 | Junkers 52 | Kothen |
| 9th February 1945 | Junkers 88 | Kothen |
| 9th February 1945 | Messerschmitt 109 | Kothen |
| 23rd February 1945 | Messerschmitt 109 | Neuberg |
Lt. Hardee was an experienced pilot totalling 1859 hours flying time, including 190 hours in the P-51D, winning a distinguished flying cross, and an Air Medal with five oak leaf clusters. Although practices varied between fighter groups it was common practice to award the Air Medal to fighter pilots after completing ten operational sorties, with an oak leaf cluster being awarded after each subsequent ten operational sorties. Lt. Hardee had by this reckoning logged at least sixty operational sorties.
On Monday 26th February 1945 Lt. Hardee was #2 in yellow flight, call-sign Custard 91, wingman to flight leader Lt. Joseph Lake. The flight had just completed a 6˝ hour sortie over occupied territory and was returning home. They crossed the coast south of Ipswich and tracked across country at an altitude of between 1,000 and 1,500 feet. At approximately 16.00 hours Lt. Lake noticed Lt. Hardee's Mustang drop behind him, and turned to watch what would happen.
The engine had failed, and Lt. Hardee had to think fast. At about 50 feet Lt. Hardee jettisoned his canopy. It was clear that Lt. Hardee was trying to make an emergency crash landing. Lt. Hardee had picked an open field, behind Glandfields Farm, directly in line with his descent, but unfortunately had not reckoned on a tree which he clipped. This collision threw the aircraft from level flight, and the left wing hit the ground, breaking away from the fuselage, flamed briefly and then went out. The aircraft began to cartwheel, the engine broke free, and the fuselage cart-wheeled again and came to rest upright.
Lt. Lake obtained a location fix, ordered Lt. Forehand to circle the crash site while he flew to nearby Andrews Field to initiate a rescue and refuel. A Spitfire was ordered up from Andrews Field to relieve Lt. Forehand who was also low on fuel.
Back on the ground the crash had been observed by farm workers who then rushed from all directions to help Lt. Hardee.
George Smith, the owner of Glandfields Farm witnessed the crash and immediately called the police.
John Waterman and Charles Cheshire, had been working at Glandfields Farm and ran to the crash site, and being closest were first to arrive, where they cut Lt. Hardee's harness. They were quickly joined by James Bundock, who was also working at Glandfields Farm. Coming from the other direction was William Wright who had been working at North End place, and together they lifted Lt. Hardee clear of the fuselage, which was making a buzzing crackling noise. Percy Jarvis who had been at Camsix Farm was next to arrive and helped make Lt. Hardee comfortable.
Also on the scene were twenty-one women and Land Army Girls, including 19 year old Vera Cook who volunteered their coats to keep Lt. Hardee warm. He was conscious but very badly injured. An ambulance from the Polish Wing based at Andrews Field arrived about twenty minutes later with a Royal Air Force doctor and Lt. Hardee was taken the US Hospital No. 121 in Braintree.
Polish airmen from Andrews Field were posted to guard the crash site until the aircraft could be salvaged.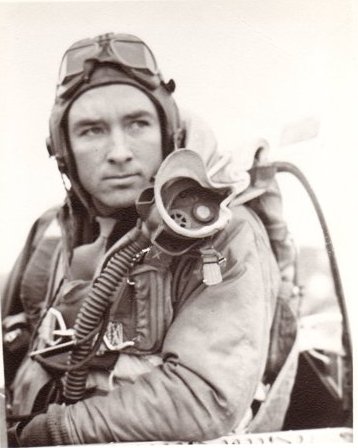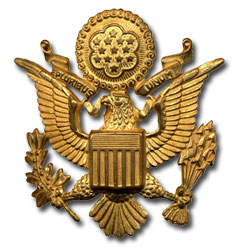 USAAF Officer Cap Badge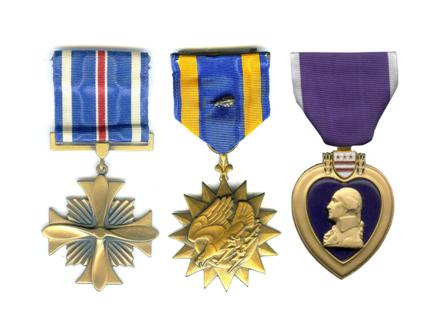 Medal Group including
US Distinguished Flying Cross,
Air Medal with one oak leaf cluster
Purple Heart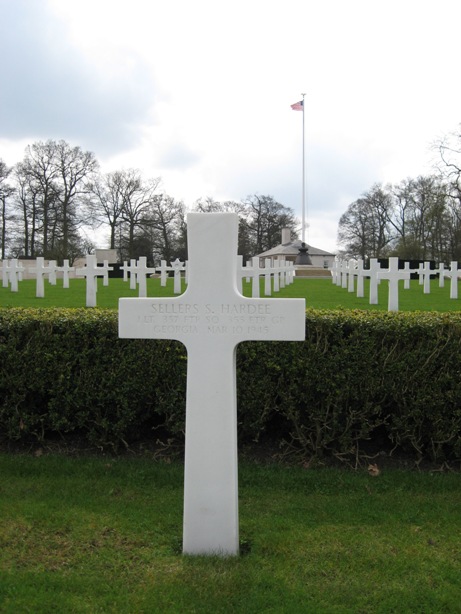 Sellers S. Hardee's grave
United States Cemetery, Madingley, near Cambridge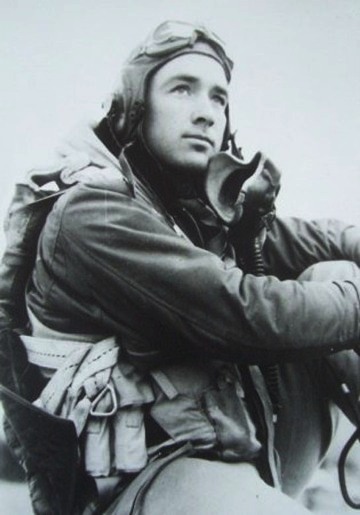 Sadly 1st Lt. Sellers S. Hardee, died of his injuries on 10th March 1945. He was survived by a widow Anne and a daughter Patricia, both now deceased.
He is buried at the US Cemetery, at Madingley, near Cambridge, and commemorated at Melton's Chapel, Methodist Church, Appling County, Georgia. As part of a memorial service at the Melton's Chapel in 1945 a small cedar tree was planted in front of the church. As time passed, the small tree grew so large that it had to be removed. A small portion was used to create a plaque which was placed in the Sanctuary of Melton's Chapel. Seller's youngest brother Frank placed another marker in the family cemetery several years ago to provide a permanent memorial, visible to all, to his brother who paid the ultimate sacrifice for the price of Freedom for all