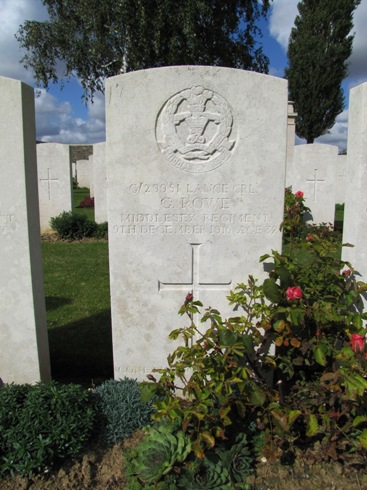 George Rowe was born in Wormegay, Norfolk in the last quarter of 1884.
He was the son of John and Fanny Rowe, of Wormegay, Kings Lynn.
In 1901 George is listed as aged 16 and working as a Yardman on a Farm in Wormgaye.
George married Constance Beatrice Vale of Rayne (known as Connie) on 24 April 1908.
In 1911 the census records the family living at Wales Cottages, Rayne Street, Near Braintree:
Goerge Rowe - age 26 - Bricklyer's Labourer, born Wormegay, Norfolk.
Constance Rowe - age 23 - born Rayne. (known as Connie)
Stanley Rowe - age 2 - born Rayne.
Percy Rowe - age 2 months - born Felstead.
Ernest French - age 3 - nephew of Connnie - born Broadwater, Sussex. Connie's sister died in childbirth.
John Rowe - age 21 - brother of George - born Wormegay, Norfolk.
Three more children were born to George and Connie.
Cyril George. born: 2nd September 1913
Twins Harold and Ronald. born: 31st December 1915
George enlisted at Warley.
He served as a Lance Corporal with the 16th Battalion the Middlesex Regiment.
He died aged 32 on 9th December 1916.
By December 1916 the Battle of the Somme was over, and George Rowe was a member of the Middlesex Regiment that was holding the trenches near the village of Flers. Although both the British and German Armies were now dug in for the winter, there were still an appreciable number of casualties each day.
He is buried at the Australian Imperial Forces Burial Ground, Flers. (photograph of memorial courtesy www.britishwargraves.co.uk)
Ann Fraser, George's grand-daughter recounts in an article on www.rayne-info.org.uk that when Connie heard about the death of George her hair changed colour overnight going from black to white.