Frank Samuel Young was born in Felstead in the second quarter of 1877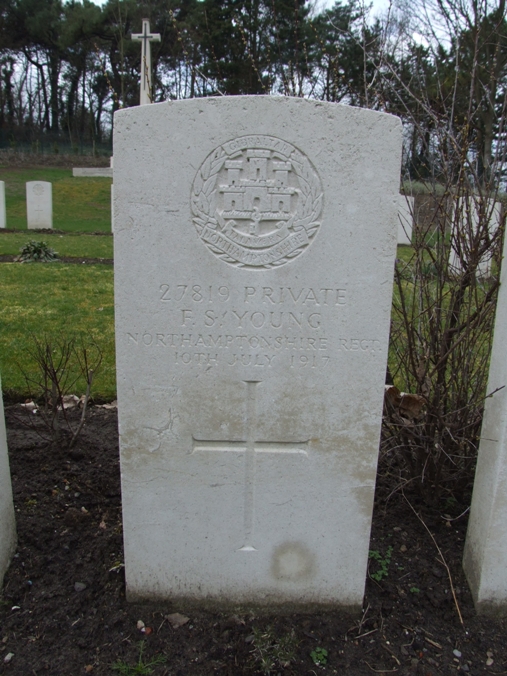 The 1891 census records the family living at Cock Green, Felstead:
Henry S Young, aged 41, Occupation Hay Binder, born Felstead
Maryann Young, aged 44, born Felstead
William H Young, aged 15, occupation: helps father, born Felstead
Frank S Young, aged 13, born Felstead
Ernest A Young, aged 11, born Felstead
Edwin J Young, aged 8, born Felstead
Emma M Young, aged 7, born Felstead
By 1901 Frank had left Felstead and was living as a Boarder with Edmund and Sarah Woolmer in Bradford Street, Bocking, and working as an Ironmongers Carman
He married Alice Mary Gunn in the first quarter of 1913.
Frank served as Private Soldier 27819 in the 1st Battalion of the Northamptonshire Regiment.
On 20th June 1917, XV Corps relieved the French Forces on a 6 kilometer front from the Belgian Coast to a point south of Nieuport. The British immediately began improving the defences, but the German Army observing the works expected an assault and decided to make a pre-emptive strike which has become known as the Battle of the Dunes at Nieuport Bains.
On the 6th July the Germans launched a 3 day artillery bombardment. At 5.30 am on 10th July the intensity of the bombardment intensified, and mustard gas was used for the first time in the barrage. Most of the bridges over the River Yser, to the rear of the British Lines were destroyed isolating the 1st Battalion, Northamptonshire Regiment and 2nd Battalion Kings Royal Rifle Corps of 2nd Brigade, 1st Division on the extreme left flank. At 8 pm German Marines began an infantry assault by which time the two British Battalions had already suffered 70-80% casualties. The overwhelming force of the German assault meant that only 4 Officers and 64 other ranks managed to reach the West bank of the River Yser.
Frank died on 10th July 1917 aged 40. He is buried at Coxyde Military Cemetery.
(photograph of grave courtesy www.britishwargraves.co.uk)
After the war his widow was living at Merks Hill Farm, Great Dunmow, and his parents were still living at Cock Green, Felstead.
His name does not appear on the village memorial, or in the list at Holy Cross Church, but does appear on the United Reformed Church Honour Roll.