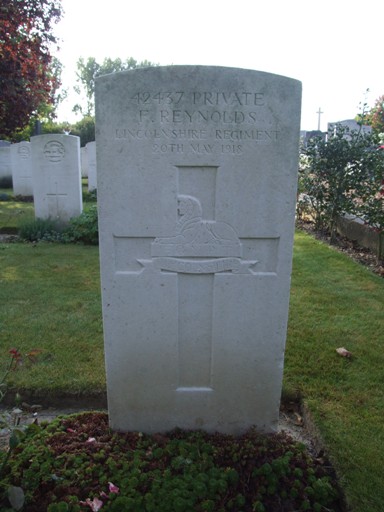 Frank Reynolds was born on 6th October 1898 the son of George and Angelina Reynolds.
Frank was born in Felstead and went to Rayne School, being admitted on 1st December 1904, leaving on 11th October 1909 when the family moved. At the time of admission, the family address was shown as Abram's Farm, Felstead.
In 1911 the family is recorded as living at Rayne Gore, Braintree, which was in the parish of Felstead. Angelina is recorded as head of the family:
Angelina Reynolds - age 40 - born Black Notley.
Richard S Reynolds - age18 - Farm Labourer - born Felstead.
Sydney Reynolds - age 15 - Farm Labourer - born Felstead.
Frank Reynolds - age 12 - at school - born Felstead.
Nellie Pretoria Reynolds - age 10 - at school - born Felstead.
Lily Alice Reynolds - age 7 - at school - born Felstead.
Frank enlisted at Warley.
Frank served as a Private soldier with the 5th Battalion the Lincolnshire Regiment, and was transferred to the 204th Employment Company, The Labour Corps.
He died aged 19 on 20th May 1918.
The 1st/5th Lincolnshire Regiment of which Private Reynolds was member was a Territorial Battalion, and as part of the 46th (North Midlands ) Division was stationed in the area around Bethune for almost three years from 1916 to 1918. Fouquieres, where Private Reynolds is buried was the site of a Field Ambulance station. It is probable the he died of wounds received in the fighting in the spring of 1918.
He is buried at the Fouquieres Churchyard Extension, Pas De Calais, France (picture courtesy www.britishwargraves.co.uk).
Angelina Reynolds lived at The Gore, Rayne after the war.