The 11th Battalion the Border Regiment was part of the 97th Brigade, 32nd Division. With the 8th Division the 32nd Division were tasked with taking the Passchendaele ridge giving the allies the high ground and improving their tactical advantage that had existed since the conclusion of the third battle of Ypres in November 1917.
The 11th Battalion the Border regiment was the centre battalion of 97 Brigade (32nd Division) during the assault
Zero hour was at 1:55 am, on 2nd December 1917. The first 8 minutes of the advance began without an artillery barrage, in the belief that a night attack with a warning barrage would give the allied troops the advantage of surprise. All other attacks had been at dawn. It was also decided that the advance should take place on a night when the moon was full so that the troops could discern objectives on the barren, desolate battlefield. Unfortunately, the Germans also had excellent visibility to counter attack.
The 97th Brigade attacked up the slopes of Hill 52 (the highest point on the northern part of the Passchendaele Ridge) and the Vat Cottage Ridge (a spur that jutted westward from the main Passchendaele Ridge).
On the far left, the 15th Lancashire Fusiliers was able to seize all of their objectives, thus securing the flank. Of the other four battalions, only the 11th Battalion, the Border Regiment was able to breakthrough the German main line. Unfortunately, the battalion was counter-attacked in the afternoon, and forced to fall back suffering heavy losses.
All of the battalions of the reinforced 97th Brigade had fallen back to their jump-off line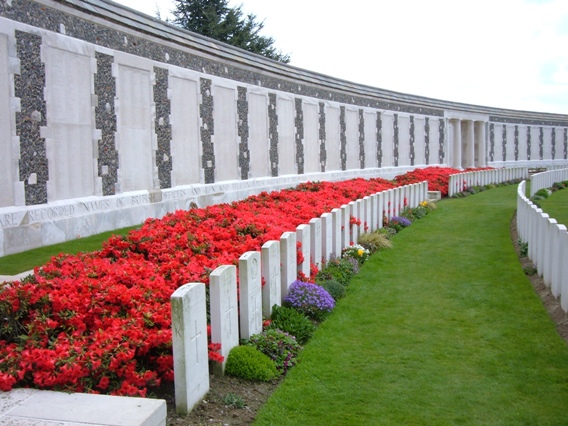 Having no known grave Arthur is commemorated on the Tyne Cot Memorial.
Tyne Cot Memorial and Cemetery is the largest of the Commonwealth War Grave Cemeteries. The Memorial contains 34,870 names of men who have no known grave. The cemetery includes 11,953 graves of which 8,366 are of unknown soldiers.
(Photograph of memorial inscription above, courtesy Becky Stone)