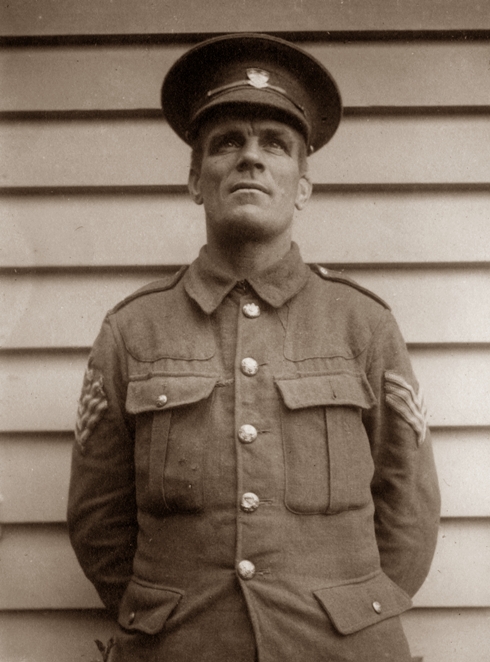 Arthur James Sivell was born in the first quarter of 1878, in the Chelsea registration district of London. He was the son of Jacob and Hannah Sivell who were living in Devizes, Wiltshire after the war.
Arthur probably joined the military as a young man, because between 1900 and 1914 Arthur was employed at Felsted School as a Fitness Military Instructor, traditionally these posts were given to ex-army non-commissioned officers.
In the first quarter of 1908 Arthur married Lilian Louisa Jesse in the Hackney registration district of London.
The 1911 census records Arthur and his family living in Felstead:
Arthur Sivell - age 33 - Gymnastics Instructor - born Queen's Park, London.
Lilian Sivell - age 27 - born Dinton, Wiltshire.
Arthur Ernest Sivell - age 2 - born Felstead.
Barbara L. Sivell - age 7 months - born Felstead
Another son William Geoffrey Sivell was born in Felsted on 29th September 1912, baptised at Holy Cross Church on 27th October 1912.
Arthur enlisted at Braintree. Michael Craze in his History of Felsted School confirms that Serjeant Sivell re-enlisted during August 1914 leaving the school without a Gymnasium Instructor.
(Picture courtesy Felsted School - n.b. Cap Badge is Felsted School OTC)
The Felstedian Magazine of 1915 lists Arthur Sivell as being a "Temporary Instructor" but at some point he joined the Wilstshire Regiment.
Arthur served as a Serjeant (service number 26175) with the 2nd Battalion the Wiltshire Regiment.
He died age 41 on 21st March 1918. He is remembered on the Pozieres Memorial.
2nd Wiltshire
Thursday 21st March 1918
France, Trenches
EXTRACT FROM THE WAR DIARY OF THE 2nd BATTALION, WILTSHIRE REGIMENT
An intense enemy bombardment of our trenches and back areas with high explosive and gas shells at 4.30am and continued throughout the day. The enemy attacked at 10am with two Divisions on our Battalion front, and owing to the dense mist which prevailed broke through on our flanks and surrounded the Battalion in spite of the strong resistance which was offered. No definite information was forthcoming owing to the Battalion being cut off, but a message was received by pigeon carrier at 1.30pm from Lt Col AVP MARTIN to the effect that he was still holding out in the redoubt with 50 men. The Battn Transport moved back from FLUQUIERES to DURY at 4.40am and again moved at 11pm to ESMERY HALLON.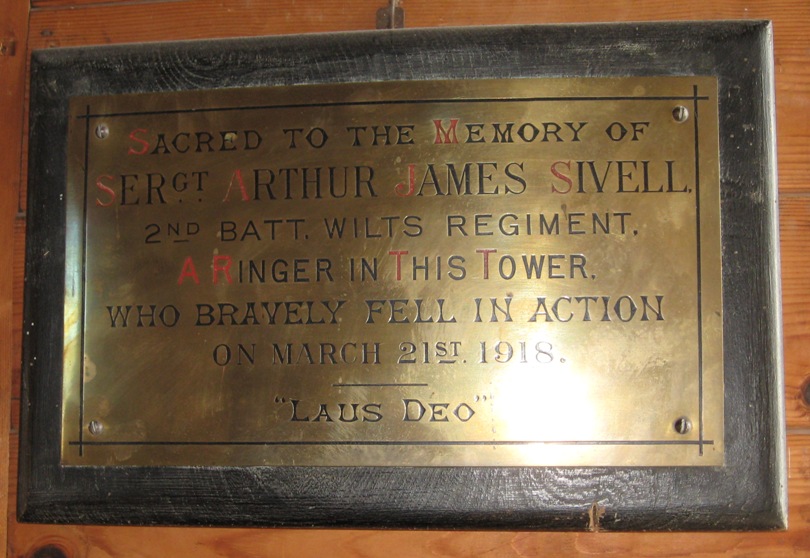 Arthur was also a bell ringer at Holy Cross Church, Felsted where the other bell ringers erected a memorial to their friend in the bell ringing chamber.
Arthur is also commemorated on the memorial erected by the Essex Association of Change Ringers which is located in Chelmsford Cathedral.