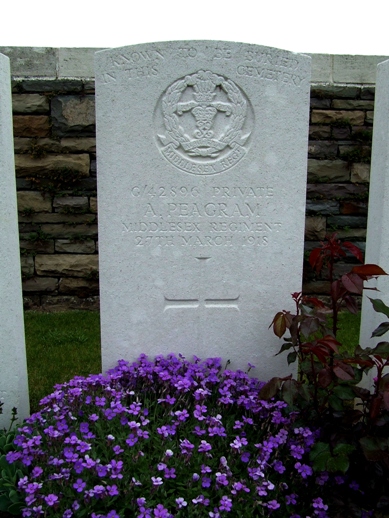 Alfred Peagram was born 28th October 1879. The son of George and Susan Peagram, of The Gore, Rayne. He had two older sisters, Emma and Elizabeth.
Alfred went to Rayne School, being admitted on 5th December 1885, leaving on 20th June 1890.
Alfred married Lucy Ann Humphreys in 1902. Alfred was a bricklayer by trade and at the time of his marriage was living at 30 Park Lane, Hornchurch as a boarder.

In 1911 the census records the family living at Braintree Green, Rayne Road, Braintree:
Alfred Peagram - age 30 - Bricklayer - born Rayne.
Lucy Ann Peagram - age 28 - born Brentwood.
Alfred Charles - age 8 - at School - born Romford.
Arthur George - age 6 - at school - born Rayne.
Cyril Humphrey - age 3 - born Rayne.
Ernest William Peagram - age 6 months - born Braintree.
Vera Margaret their daughter was born in 1917.
Alfred enlisted in Warley, Essex and served as Private soldier G/42896 with the 2nd Battalion the Middlesex Regiment.
He died on 27th March 1918, and is remembered at the Assevillers, New British Cemetery.
(photograph of grave courtesy www.britishwargraves.co.uk)
In March 1918 the German Army launched its final all out attack on the Western Front, the attacks were wide spread, on the French and Americans in Champagne and on the British around Arras and in the Somme Area. In some sectors they came perilously close to succeeding. All available troops, including cooks, medical orderlies and headquarters staff were used to stem their advance. The Middlesex Regiment was defending the south of the British line between around Assevillers between Amiens and Peronne, by the middle of April they had been pushed back to the outskirts of Amiens, but the line held, and that was the limit of the German Advance.