Alfred George Millard was born in Windsor in the early part of 1990.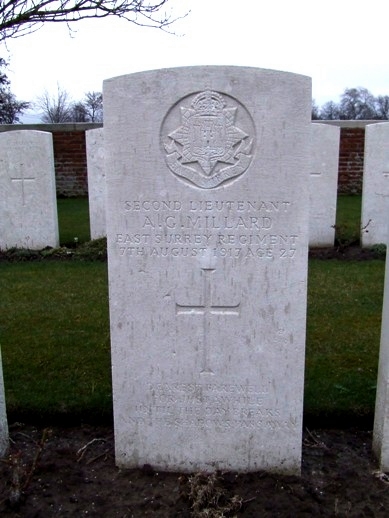 He was a Master at Felsted School.
He was the son of Mr Alfred William and Mrs Beatrice Millard of 153, Langdale Rd., Thornton Heath, Surrey.

His short service record shows:
MILLARD, Lieut. A. G. Artists' Rifles.
Lieut. 3rd C. R. Bn. E. Surrey Regt. Killed in action in France 7/8/17.
His National Archive medal card records him as serving as Lance Corporal 7185 with the London Regiment (Artists' Rifles) and then as Second Lieutenant with the East Surrey Regiment.
The Commonwealth War Graves Commission record that he was serving with the 9th Battalion, the East Surry Regiment when he was killed on 7th August 1917 during the Battle of Ypres, aged 27.
Felsted School online memorial records:
F.R.C.O. Master at Felsted for one year. 2nd Lt, 9th Bn. East Surrey Regiment (72 Bgde., 24 Div, army number 2282) . Killed in action 1917
He is buried at the Aeroplane Cemetery at Ieper, West Vlaanderen, Belgium
Photograph of grave courtesy www.britishwargraves.co.uk