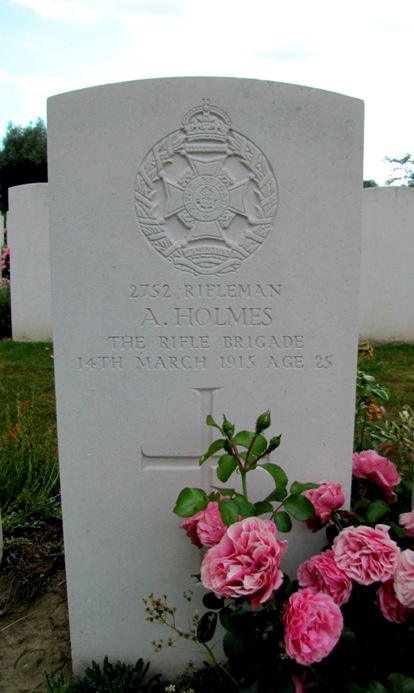 Arthur Holmes was born in Felstead around 1889.
He was the son of James and Eliza Holmes.
In 1901 the family lived in Broadway, now Stebbing Road:
Eliza Holmes - 49
Sydney Holmes - 18 - Farm Labourer
Arthur Holmes - 12
On 26th March 1908, aged 19, he enlisted at Warley Barracks with the Rifle Brigade.
His medical examination records him as being 5' 8½" tall, 127 lbs, with a chest measurement of 36", of fresh complexion, with blue eyes and brown hair.
His relatives are listed as Father: James Holmes, Mother: Eliza Holmes, and Brother: Frederick. Their address is given as Jollyboys, Felsted. His occupation at enlistment was Labourer.
He became Rifleman 2752 of the 2nd Battalion, the Rifle Brigade, and on 30th March 1908 arrived in Winchester for training.
On 16th September 1909 he boarded SS Rohilla bound for India, and Fort William in Calcutta, where he arrived on 16th December 1909.
The 1911 census records Arthur as being aged 22, single, and serving as a Rifleman, with the 2nd Battalion The Rifle Brigade, which was stationed at Fort William, Calcutta, India.
Arthur was present at the coronation of King George V as Emperor of India at Delhi in December 1911. His Coronation Durbar Medal was sent to his father in 1917 who by this time was resident at the workhouse in Felsted.
In 1913 Arthur was diagnosed as suffering with Malaria, whilst at Rawalpindi, India.
At the outbreak of World War 1 the 2nd Battalion were recalled to England, arriving in England on 23rd October 1914, where they were re-equipped and prepared to join the British Expeditionary Force in France on 5th November 1914. On 25th October 1914 Arthur was appointed as Lance Corporal.
He was killed in action, aged 25, on 14th March 1915.
He is buried at the Rue-Petillon Military Cemetery, Fleurbaix.
Photographs courtesy www.britishwargraves.co.uk