Albert 'Victor' Clift was born in Bocking, Essex in the summer of 1887. He was the son of James and Emily Clift.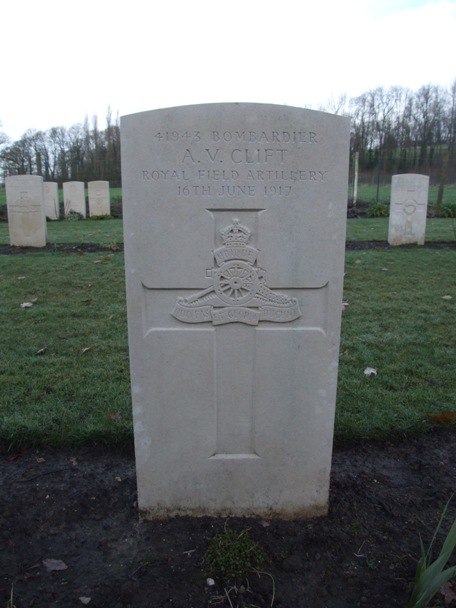 In 1901 the census records his family living in Great Waltham (notes about other siblings added for completeness):
James Clift - age 49 - born Gt. Waltham - Coachman
Emily Clift (née Gowers) - age 49 - born Gt. Waltham
Ada Clift (oldest child born 1875. Not in Gt. Waltham at time of census)
George William Clift (born 1877, died 1891)
Frederick James Clift - born 1880, in Bocking - Groom
Harry Clift (born 1882, In 1901 he is not in Gt. Waltham but is listed on the census as Private, Infantry Militia)
Herbert John Clift - born Bocking 1883 - Groom. (Herbert was also killed in the First World War, whilst serving as a Private soldier with the 1st Battalion, Essex Regiment, leaving a widow Ella B. Clift, at Flempton, Bury St. Edmunds. See extract below form Essex Weekly News)
Oliver Clift - born Bocking 1885 - Grocer's Assistant
Victor Clift - born Bocking 1887 - Stable Boy
Arthur Edward Clift - born Bocking 1890 - Juvenille
By 1911 Albert Victor Clift was employed as a Groom in Felstead.
'Victor' married Annie Baker, a Felstead girl, in the first quarter of 1912.
'Victor' and Annie had three children:
Florence Emily Clift (born 21st March 1912, baptised 28th April 1912)
James Frederick Clift (born 12th October 1913, baptised 28th December 1913)
Harold Clift (born 8th March 1917, baptised 6th May 1917)
'Victor' served as a Bombardier with the Royal Field Artillery, serving with 'D' battery in the 38th Brigade.
He died on 16th June 1917. He is remembered at the Underhill Farm Cemetery.
(photograph of grave courtesy www.britishwargraves.co.uk)
Victor Clift is also remembered on the memorial at Great Waltham.
Victor's widow Annie married Frederick James Clift, Victor's older brother, in 1922.
No mention has yet been found in the Essex Weekly News of Victor's death but his brother's death is recorded in the Roll of Honour for 9th July 1915, and gives some interesting details about the family:
Pte Herbert John Clift, 7745, 1st Essex of Howe Street, Great Waltham, son of Mr James Clift, coachman to Col. W. N. Tufnell D.L. J.P. of Langleys, and Mrs Clift, Waterfall, Langleys, was killed in action on June 16 in the Dardenelles. Deceased who was formerly employed at the Hoffman Works, Chelmsford, was a Reservist, and had served in the South Africa War. He first served in France, and was invalided home, being subsequently ordered to the Dardenelles. He leaves a widow and one child.