Albert Childs was born in Felstead in the September quarter of 1889. He was the third child of Walter and Phoebe Childs.
By 1901 the family had moved to Great Baddow south of Chelmsford and are listed on the census:
Walter Childs, aged 38, born Felstead
Phoebe Childs, aged 37, born Gt Waltham
Alfred Childs, aged 16, born Felstead
Ada Childs, aged 14, born Felstead
Albert Childs, aged 13, born Felstead
Joseph Childs, aged 11, born Felstead
Lucy Childs, aged 6, born Felstead
Rosie Childs, aged 5, born Felstead
Daisy Childs, aged 1, born Black Notley
The Essex Regiment records showed that he was living at North Ockendon when he enlisted at Romford.
Albert served as Private Soldier, 33964, with the 11th Battalion, the Essex Regiment. He died aged 28 on 2nd June 1918, and is buried at the Nine Elms British Cemetery.
The Commonwealth War Graves Commission records his next of kin as being his sister Miss Rosie Childs, who was living at 8 Lennards Row, Aveley, Essex.
Albert is not commemorated on the village memorials. He is remembered on a plaque inside St Michael's Church, Aveley, and on the Aveley War Memorial.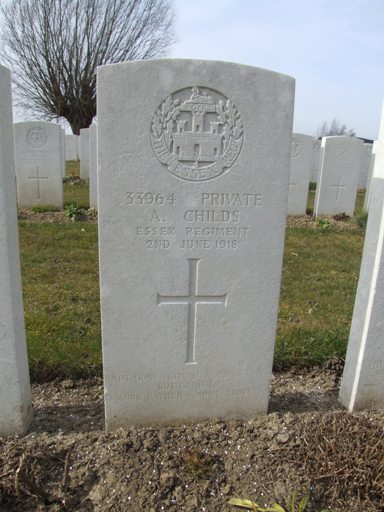 photograph courtesy www.britishwargraves.co.uk
inscription at base reads:
Not Gone From Memory Or Love
But Gone To
Our Father's Home Above